Critical Skill Class: Pre-Licensing Preparedness and Licensing Renewal Course for Michigan Adult Foster Care Licensees
Critical Skill Class: Pre-Licensing Preparedness and Licensing Renewal Course for Michigan Adult Foster Care Licensees
Everyone needs development...Click Here for Why We are the Only Option...
Click Here for a broader discussion about our highly specialized approach to training in community based care

This is a course that combines audio and printed products. It covers all of the items in State of Michigan Administrative Rule 400.14201 and more, including:
Adult Foster Care: As Defined in the Act
Resident/Recipient Rights
Licensing Requirements
Effective Fire Safety & Prevention

Policy Development
Corporate Governance
Effective Financial and General Management
Person Centered Program Planning
Prevention & Containment of Communicable Disease: Blood Borne Pathogens

First Aid
CPR
Reporting Requirements
Nutritional Protocol in Group Living

Pre-Recorded, a truly effective multiple section presentation.Once purchase is made links are sent to the recordings and the printable items are sent as PDF files.
Delivery: Once your order is placed you receive links to download your product or a Product Specialist will email the PDF files to you. This normally occurs within 4 hours of orders placed by midnight. Delays can occur of a few hours on weekends and holidays. You are ordering a printable, self-study product. If you prefer to use the online school please browse the library at: directcaretrng.pathwright.com. The identical class in the on-line school - Click Here
More details by email only: info@directcaretraining.com or onlinelearning@directcaretraining.com. Phone support is not available for online store orders, email only.

Click Here for video that explains this product and others....
Reviews
Featured Products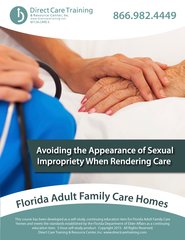 Avoiding Appearance of Sexual Impropriety When Rendering Care (3 CEUs)
$69.95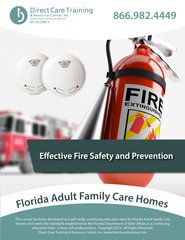 Florida Adult Family Care Home CEU Product - Effective Fire Safety (3 CEUs)
$75.00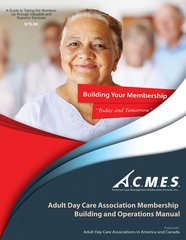 Adult Day Care Associations: Strategies for Heightening Membership
$29.95