Adult Day Health/Care Staff Orientation Group Subscription Model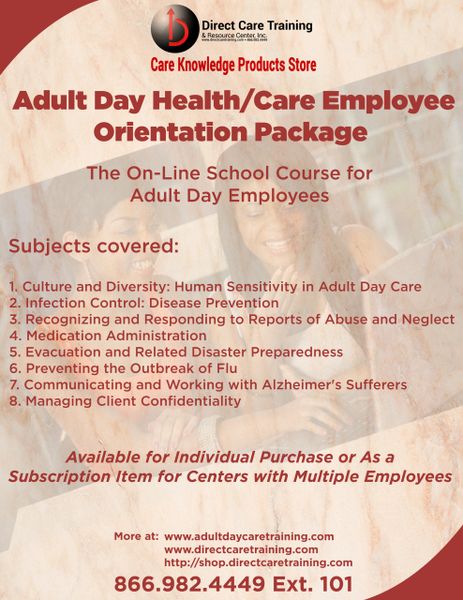 Adult Day Health/Care Staff Orientation Group Subscription Model
This is the annual subscription model for Adult Day Services staffers to use for completion of regulatory requirements. There are eight, (8) modules that include:
Culture and Diversity: Human Sensitivity in Adult Day Care

Infection Control: Disease Prevention

Recognizing and Responding to Reports of Abuse and Neglect

Medication Administration

Evacuation and Related Disaster Preparedness

Preventing the Outbreak of Flu

Communicating and Working with Alzheimer's Sufferers

Managing Client Confidentiality
Once this purchase is made which covers up tonight, (8) employees annually, you receive subscription codes via email to use in the online school, so you will not be asked to pay in the school. If yours is a single purchase and a subscription for your entire team is not needed, Click Here to make your purchase directly in the school.

Reviews
Featured Products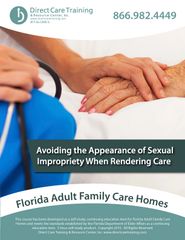 Avoiding Appearance of Sexual Impropriety When Rendering Care (3 CEUs)
$69.95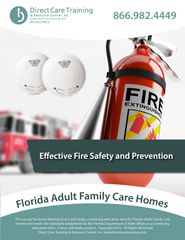 Florida Adult Family Care Home CEU Product - Effective Fire Safety (3 CEUs)
$75.00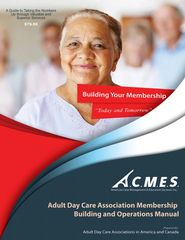 Adult Day Care Associations: Strategies for Heightening Membership
$29.95