Adult Foster Care Course No. 1125 - Understanding the Dilemma of Pain (4 CEUs)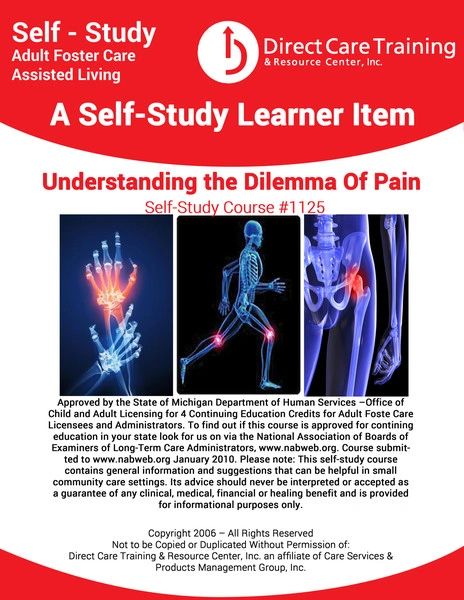 Adult Foster Care Course No. 1125 - Understanding the Dilemma of Pain (4 CEUs)
Expand how effective you can be in serving residents and clients once you know:
What Causes Extreme Physical Pain?
Why Regular Communication with Resident Physician is Crucial
What are the Psychological Affects of Extreme Physical Pain?
How You Can Help Residents to Cope
Delivery: Once your order is placed you receive links to download your product or a Product Specialist will email the PDF files to you. This normally occurs within 4 hours of orders placed by midnight. Delays can occur of a few hours on weekends and holidays. You are ordering a printable, self-study product. If you prefer to use the online school please browse the library at: directcaretrng.pathwright.com.
More details by email only:
info@directcaretraining.com
or
onlinelearning@directcaretraining.com
. Phone support is not available for online store orders, email only.
Reviews
Featured Products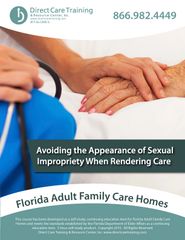 Avoiding Appearance of Sexual Impropriety When Rendering Care (3 CEUs)
$69.95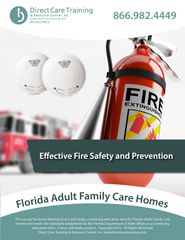 Florida Adult Family Care Home CEU Product - Effective Fire Safety (3 CEUs)
$75.00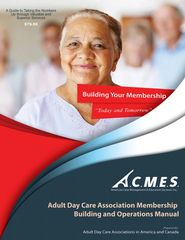 Adult Day Care Associations: Strategies for Heightening Membership
$29.95