Adult Day Services Feasibility Study - A Pre-Investment Necessity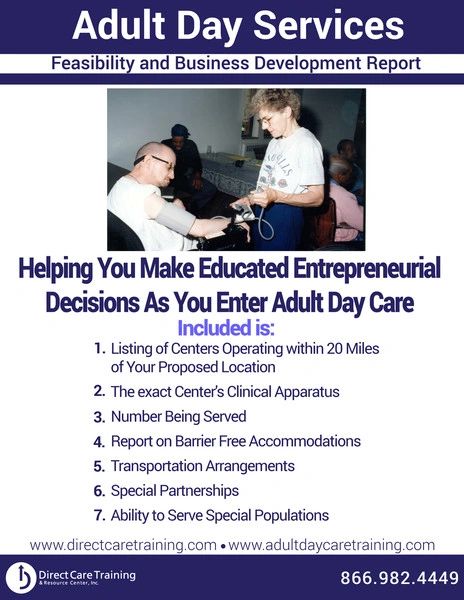 Adult Day Services Feasibility Study - A Pre-Investment Necessity
Items Feasibility Report to Include:
PROVIDED AS PART OF SIGNED AGREEMENT ONLY.  For details send an email to: 
info@directcaretraining.com or phone 86.982.4449 Ext. 101:
Such a study helps to govern business decisions.  While no consultant will present such information as absolute or dare to make decisions for a client, the time invested into gathering this critical information may in the end have saved significantly more.  The study can be used as a pre-cursor to a project management agreement or may be used by the purchaser to guide their plans internally.
These easy to read but information packed, and comprehensive Feasibility Reports as described above that are conducted by Direct Care Training & Resource Center, Inc., involving only one state of operation are billed at a rate of $1,075.00 per U.S. State.  This extensive research developed in an easy-to-follow presentation format for our clients cannot be provided for free.
The reports are delivered within fourteen, (14) days.  
1.      What regulatory hurdles must be overcome
2.      What licensure may be required for the business
3.      What compatible providers may be interested in establishing a relationship and under  what terms
4.      What is the likely capital investment for the business
5.      What survey or regulatory compliance issues remain and the time that might be involved in resolving each
6.      What competitors exist and how their services compare and what weaknesses they have that could be exploited
7.      What marketing approaches are the most respected in the area
8.      What business structure provides the best image value
9.    For new programs, build out and equipment and furnishing requirements

Delivery:   Once your order is placed, we make contact within 24 hours to gather additional information and begin our work.  The report is delivered within ten, (10) business days. More details by phone or email:  info@directcaretraining.com.
Current charge will increase to $1,650.00 on December 1, 2018.

Reviews
Featured Products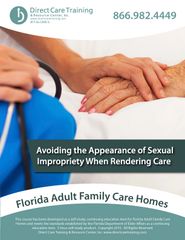 Avoiding Appearance of Sexual Impropriety When Rendering Care (3 CEUs)
$69.95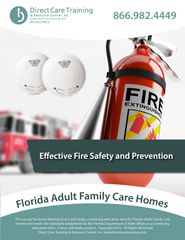 Florida Adult Family Care Home CEU Product - Effective Fire Safety (3 CEUs)
$75.00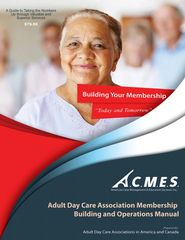 Adult Day Care Associations: Strategies for Heightening Membership
$29.95