Single User Training for Workers in Adult Day Care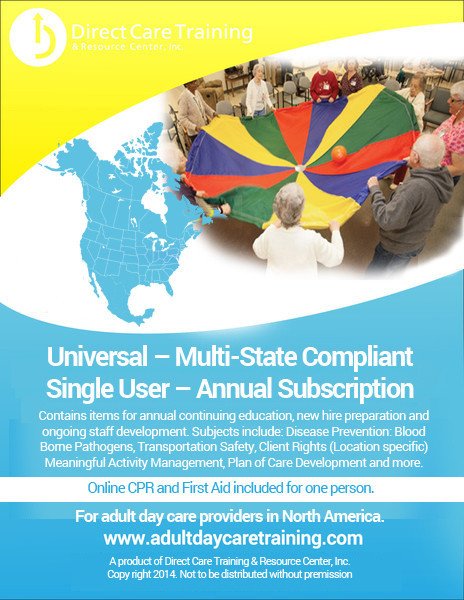 Single User Training for Workers in Adult Day Care
SINGLE USER VERSION - PROVIDERS PURCHASE AS A SUBSCRIPTION SERVICE AND CAN TRAIN AN UNLIMITED NUMBER OF STAFF AND/OR VOLUNTEERS
This product is a compilation of training subjects required for adult day care providers who operate around the world. The product is available in printed and video format and is complete with review questions. Perfect for new hire orientation, ongoing staff development and annually required continuing education.
Includes:
1. The purpose and goals of adult day services
2. The roles and responsibilities of staff members.
3. Positive approach methods to manage behavior.
4. Disease Prevention: Blood Borne Pathogens
5. General Fire Safety
6. General Operations, including:
a. The philosophy of the program
b. Confidentiality.
c. Interdisciplinary team approach.
7. Client rights. (Sent as separate training product)
8. The population served.
9. The center's Routine and General Policies and Regulations.
10. Communication skills.
11. The center's emergency procedures.
12. The needs of the clients in the center's target population.
13. Body mechanics/transfer techniques.
14. Reporting laws regarding abuse, neglect and exploitation.
Annual continuing education is handled via live on-line lectures. These are not pre-recorded. The annual subscriber receives the schedule in advance. If the subscriber cannot arrange to participate they can receive the recordings after the event has been conducted.
What happens when your order is placed?
You receive a letter of confirmation
You receive downloadable links to begin training staff with these sessions; plug in the speakers or connect to the television and you're all-set!
You receive review questions in printed form to use after conducting sessions with our recorded products
You receive a monthly lecture schedule
We take the work off you and transfer it to our service bureau that is constantly working for you.
Delivery: Once your order is placed you receive links to download your product. You have options of printed self-study products in digital format or usage of the on-line school. More details by phone or email: info@directcaretraining.com or 866.982.4449 Ext. 101.

Reviews
Featured Products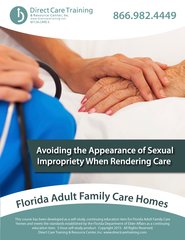 Avoiding Appearance of Sexual Impropriety When Rendering Care (3 CEUs)
$69.95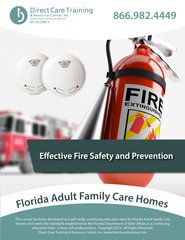 Florida Adult Family Care Home CEU Product - Effective Fire Safety (3 CEUs)
$75.00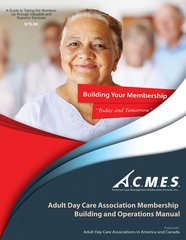 Adult Day Care Associations: Strategies for Heightening Membership
$29.95